Hello everyone and welcome to CommanderCast Episode 331! This week, Mark and Adam are back and ready for so good old fashion Commander talk! The guys finish going over some of the new cards from this years Commander Percons that they didn't get to finish with last week, then they move on to why your mana curve is too damn high!… Then they finish up with a Break My Card segment you are going to want to hear!
So pull up your rocking chairs and click the IB!!!
CommanderCast Episode 331
Posted: August 22
Intros:
Adam
Mark
Keep up with the conversation on Facebook & Twitter.
Community
Scryfall acquires MagicCards.info; CommanderCast weeps.
New cards we're excited for:
Solid reprints:
*crickets*
Strategy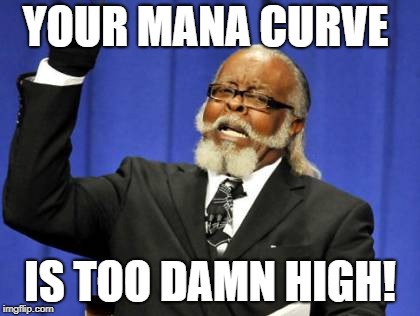 Why a lower mana curve is important and why the mana curve of your deck is probably too high (this originally autocorrected to "man's curve," by the way, and doubtless would have resulted in a much different segment).
Tips:
Draw, ramp, and removal should cost 3 or less.

Make cuts from the top of the curve first (and pair down redundancy here, too).
Technology
Return of an old segment: "Break My Card"
Cards that seem like they might have "Johnny potential," but need a little help to work.
Outtro/Contacts:
CommanderCast  – Email: commandercast(at)gmail(dot)com // twitter: (at)CommanderCast
Calvin – Email: captainredzone(at)gmail(dot)com  // twitter: (at)CaptainRedZone
Mark – Email: mahlerma(at)gmail(dot)com
Adam – (at)squire9999 // (at)thetrinisphere
Be sure to check out our CommanderCast Facebook page.
And a big thanks to everyone here at the CommanderCast Network. We'll see you next week with more community, strategy, and technology. Until then, LET'S GET IT!