Posted by William & Calvin
Chances are that when you listen to this week's episode, you'll notice that I, William, am not on it. Why not? Well, let's just say that making sure family gets taken care of is a higher priority for me than sitting around and talking to a bunch of nerds. Fortunately, one of those nerds is more than capable of picking up the reigns when I need to step out.
Calvin brings Cassidy back on poste haste to fill the gap so that Eric can join them and everyone enjoy the sick sadism that is….RAAAAAKDOOOOOS~ Come on in and hear what happens when you mix two horrible mechanics together (as far as EDH goes), and find out why everyone's going to hate your guts.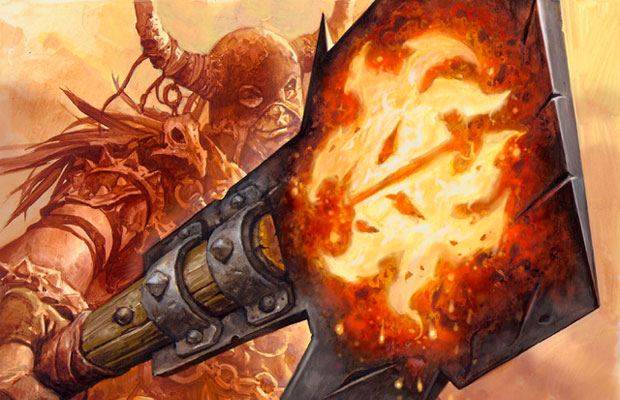 Shownotes after the Ib.
Announcments:
Gifts Given 2013!
Donations will get your messages read on air!
So far our prize pool includes:
ONE XL-sized Boros T-shirt, the kind that Wizards sells on their website, kindly donated by my local gameshop, Fog of Dusk.
4-5 Alters by Kayla aka Zeico! You can see her Magic art/card alters here.
More alters by Ward!
For every benchmark we reach, we'll add more prizes to the pool!
Community: Group slug – A Bear Hug you DON'T want.
These sorts of decks can make the game go a LOT faster, great for quick games. Just don't be surprised when everyone gets upset that you're dragging everyone down.
Kaervek the Merciless is THE posterchild for group slug decks.
Give it some time, and people will calm down and realize that you aren't the biggest threat on the board.
Strategy: Rakdos mechanics!
Hellbent – Bigger effects when you don't have a hand? Great! It's a shame there really aren't any cards that are big enough to matter in EDH.
Unleash – …do you REALLY want to make it easier for people to punch you in the face for such a small power boost? You do if you want to be hyper aggressive.
Haunted Crossroads is a pretty nifty card for recursion.
Technology: Rakdos review!
Featured cards:
Rix Maadi Guildmage (booooo)
And more!
Calvin – Email: captainredzone(at)gmail(dot)com // twitter: (at)captainredzone
Cassidy – Email: FatStacksEDH(at)gmail(dot)com // twitter: (at)WriterofWrong
Eric – Email:  EricBonvie(at)gmail(dot)com // twitter: (at)ThatBonvieGuy
Podcast: Play in new window | Download