Posted by Brian (@ChaosMTG).
Season 12, and with this new season comes a new article from me.
So, what is this new article?
EDH (Every Development Here) is a step up from my Unexpected Posts pseudo-series and is a full-fledged article series for Magic related news and developments around the internet. Every other week, I'll be trying to fill this spot with two (or more) weeks worth of information that you should know.
That said, I'm not entirely sure how I want to format this series. While I'll be sure to bring you as much content as I can, I can't promise you much, if any, stylistic continuity. This season I'll be trying to figure out how to best write and format this article and all of that important-to-me-but-not-to-you kind of stuff… But enough with that, let's get to the stuff that's actually important.
Official News (important stuff you probably already know)
Born of the Gods spoilers started Monday so, since we don't have a preview card (note to CommanderCast staff: Get on that.) here are some Gods:

An event deck for Modern has been announced. With the depth of the Modern card pool and the $75 price tag, it's sure to contain something that will be playable and relevant to Commander too.
M15 Frame Change
With M15, the card frame is changing once again, though not drastically, providing pretty much all collector information necessary except for misprint/cut.  More importantly, though, is the foil stamp one rares and mythics, which apparently "makes those cards feel more special, as well as guarantees authenticity." I think it's fairly obvious that the latter is the real reason.
This reminds me of something…
Now why might they be so concerned about counterfeit cards? Hmm…
Other News
Oh, right, because apparently they're popping up all over the place…
Thousands at a time.
In extremely high quality.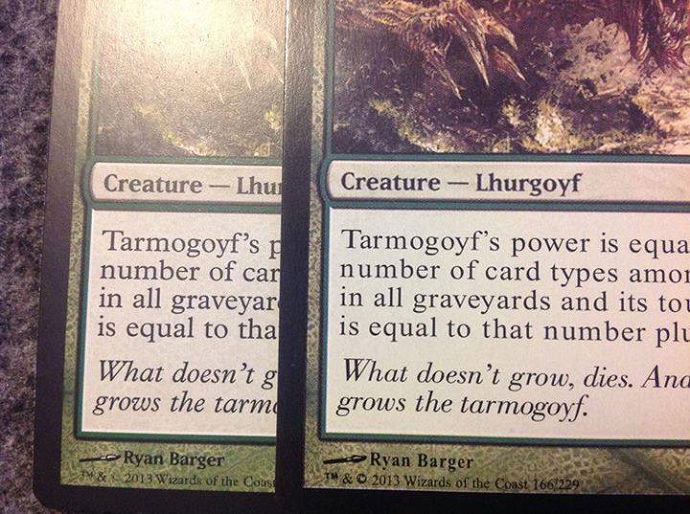 A more in depth commentary on this can be found in Chas Andres's SCG article from this Monday.
20th Century Fox has acquired the film rights for Magic. Writer/producer Simon Kinberg (best known for his work on the X-Men movies and future work on the Star Wars franchise) will be overseeing the adaptation.
Community News
Here's where things get a bit tricky for me… I want to have a community news segment, but I don't exactly have the time to sift through all of the offerings the internet has for me to give you. So, if there's something interesting community related that you'd like to see here (community driven event, interesting forum discussion, something-something Twitter), let me know.
For now though, since I have 44 minutes until this goes up and don't have time to delve too deep, I'm just going to go find some decks that I think are worth featuring…
This seems like a fun take on Oloro. (I also love the name.)
How about some Pauper Commander too? (I actually had no clue that this commander was a thing.)
And last, but certainly not least, how about a
mono-legends deck
?
(I've wanted to try something like this for a while.)
Well, that's it for the first edition of EDH (Every Development Here). Let me know what you thought of it and what you might like to see done differently so I can develop this article into something good.
If you'd like to submit something to be featured in the Community News segment, you can find me by commenting here, on Twitter (
@ChaosMTG
), or email me at chaosmtg@gmail.com.