Posted by Brian (@ChaosMTG).
Oh, the wonders of three slow news weeks in a row… In official news, the Theros eBook, Godsend, will be releasing on April 1st… And that's about it.
So, in an effort to provide you with the content you deserve, today I'll be providing a public service announcement.
This photoset has been trending over the past week.
Today I'm going to take a moment to tell everyone one thing:
DON'T BE THESE PEOPLE
When in public, be sure that your pants and shirt fit properly and are covering you, especially such places that no one wants to see.
"But I wear a belt." you might say.
Yeah, well, so do a lot of people in these pictures; be aware of how you're sitting so as to not be disgusting/offensive to the people around you. If possible, try draping something over the back of your chair to close the gap of visibility. If you happen to be informed of or notice your error, try adjusting your shirt/pants accordingly to mitigate damages to the psyches of those around you and when you get home, try going through your wardrobe and seeing how many offending outfits you might have.
I've seen this occurrence all too much on my own, let's not make this something that Magic becomes well known for.
On a more positive note, this has gone viral, so the internet has provided us with such gems as these:
With that out of the way, how about a roundup of Magic memes? (fact: Googling "EDH Memes" redirects you to "EDM Memes".)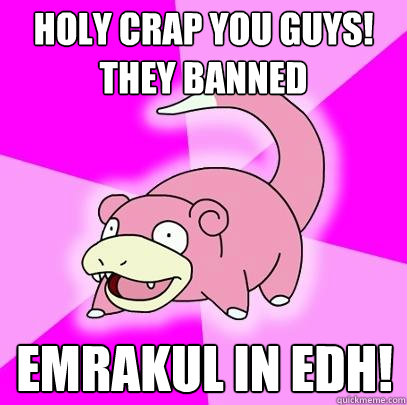 Well, that's it for this season's EDH (Every Development Here), if anything happens over the break, I'll be sure to return my Unexpected Posts series, but there won't be a full news article until next season. I think I've figured out how I want to go about this series now, so it should be a bit more consistent next season.