By Billy
Today I'm going to be discussing two different hordes, both of which I've been wanting to build for quite a while but never felt like there were enough Horde-playable cards for the tribes. That's right: it's Kor and Vampires Tribal!
Just kidding.
I'm talking about Eldrazi and Allies Hordes. These are two horde ideas that have been bouncing around my head since I'd first heard of Horde, but I wasn't sure how to build them in interesting and fun ways. Thanks to Magic's return to Zendikar, I feel like I have the tools available to produce hordes that are worthwhile and provide enough of a different spin on the format to feel different from other, more standard hordes.
First on the list is the Eldarzi Horde.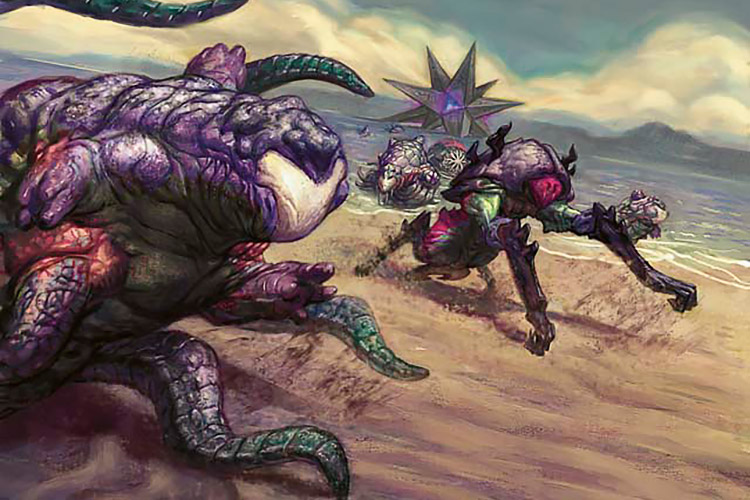 This horde is built under a different design paradigm than most horde decks I've seen. The traditional Horde looks to overwhelm the players in a sea of cannon fodder with a few large threats to distract from the ever-growing mass of faceless tokens. This Eldrazi horde, however, is built around the boss monsters. Gigantic eldritch horrors tromp (slither? scuttle? glide? fold-reality-around-themselves?) across the battlefield to crush the meager defenses of players who really should know better than to wake up Cthulhu. Tokens aren't really a threat here.
The Scions are only 1/1s, easily squashed by Bear Cubs or any other creatures with two toughness. On the other hand, Breaker of Armies is in the house to inform your players precisely how he got that title. If you look at the list, you'll notice there isn't much Annihilator in there. That was intentional, as too many test draws involved turn one Annihilator triggers ending the game before it even started. That's not fun, not even for "Hard Mode" Hordes. Feel free to add them all back in if you've got more balls than brains. Despite Oath of the Gatewatch adding more beef to Team Eldrazi, my self-imposed Annihilator limit has lead to more duplicates than I usually want in a Horde, but I think the feel holds up pretty well.
Here's a quick breakdown of the highlight cards:
That finishes it up for the Eldrazi half of this, now on to the Allies.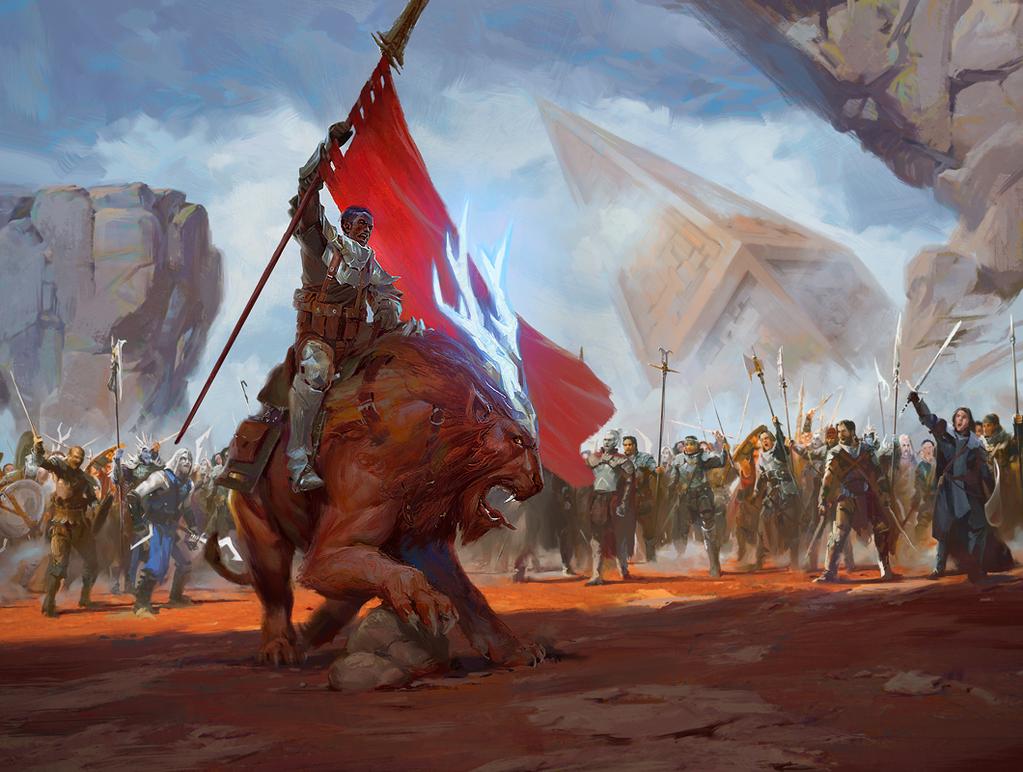 This horde is built to swarm. First thing to notice is that there are 75 tokens in this horde, so it'll average about 4 cards per turn, meaning 4 Ally triggers per turn. Here's where the conscious nerfing comes into play:many of the old-school Allies have triggers to put +1/+1 counters on themselves, or others, whenever they or another Ally enter the battlefield. This leads to large quantities of counters on permanents, and no one has enough dice or time to deal with the logistics of that. When Magic Online adds Horde functionality, I'll play with that Ally horde.
As it stands, we're looking to cut down on the number of dice involved. This will reduce the power level of this horde, but I don't think it will be nearly as awkward as Eldrazi without Annihilator turned out to be. Instead we'll be looking for triggered abilities, preferably ones that don't target. This will mean a giving out a lot of keywords, almost on the level of Slivers. Nearly every card in the deck provides some keyword bonus, and many of the ones that don't grant keywords carry some other bonus. The keyword givers also mean that we don't have to track quite as many triggers, since multiple instances of most keywords are redundant.
Time for the highlight cards:
Sadly, I don't think the Ally horde got nearly as much help from Oath as the Eldrazi did. Cohort is an interesting mechanic, but not one that is remotely applicable to Horde's AI player. The Eldrazi, by comparison, got some massive upgrades (courtesy of Kozilek's brood), especially considering the limit I placed on Annihilator. Deceiver of Form and Eldrazi Mimic both provide the horde with their "boss monsters" and more variance of play, something that I believe is crucial to the lifespan of a horde deck. If the deck gets too predictable or easy, it stops being fun, and that's why we play games.
On the subject of fun, if you really hate it, here are lists for each tribe with the gloves off and absolutely no design parameters other than to make it as hard as possible. I don't recommend playing these, but I'm sure someone will appreciate the nightmares they represent.